Having access to an embroidery machine isn't a bad thing. Being capable of digitizing isn't bad either.
Combine both, and the possibilities are endless.
I have access to a Brother SuperGalaxie 3100D; and digitize in Brother's PE-Design V6 as well as in Stitch Era (just because it has different and, in some cases, better possibilities to do things).
Here's a (small and really absolutely not complete!) collection of things I digitized and embroidered (to which I'll add new works as soon as they are done):
Star Wars – Queen Amidala, Red Invasion gown – embroidered to a H&M Jeans skirt
Amidala's head from the 'Red Invasion' gown, digitized by me and embroidered to one of my jeans skirts
Detail photo: Head
The white face, by the way, is appliquéd and made from white poly satin.
Closeup: Center jewel.
I embroidered this one with holographic red thread, so it sparkles like mad in the sun 🙂
Star Wars – Queen Jamillia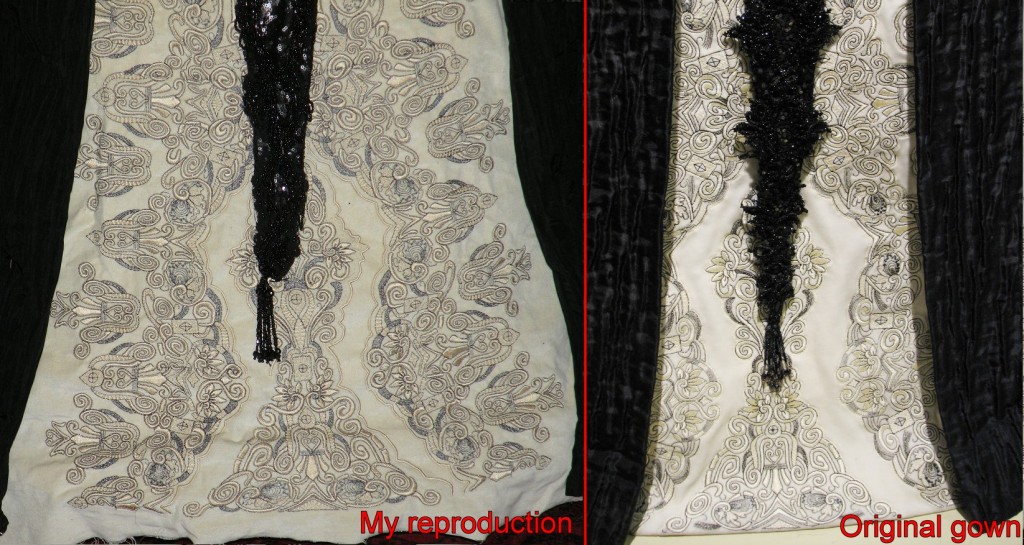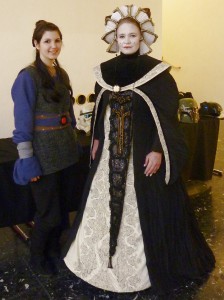 The most complex embroidery I've digitized and embroidered so far – almost 800,000 (eight hundred thousand!) stitches in this costume!

More details about how I made the embroidered underdress here; and more pics of the finished costume here.
Star Wars – Padmé – blue Tattooine "poncho"
See more of this costume and the embroideries I made for it here.
Star Wars – Queen Apailana
See more of this costume and the embroideries I made for it here.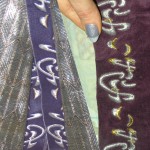 The finished embroidery (well, about 10 inches respectively three repeats of the pattern of it – it's just a test embroidery, remember?…) on the left (with my hand holding it), compared to the original embroideries (on the right; exhibit photo).
I guess I need to dye my velvet a tad more blueish, but other than that, I guess it looks good

Star Wars – Padmé / Amidala – Coruscant Packing Dress
See more of this costume and the embroideries I made for it here.
Jacket with Morning Glories
My mom has china with Morning Glories on it.
I love them; I even once made a cake for her which had Morning Glories on it so it would match her china.
When I bought a very cheap autumn jacket (11 Euros! Primark! *lol*), I thought it couldn't hurt to decorate it a bit. Originally I wanted to embroider a giant Torchwood logo to it; then, however, I decided to use the Morning Glories which I had digitized for a tablecloth for my mother.
Here's the result:
A sailor's jacket for my son
My son *loves* anything that has to do with ships. So when I bought him a sailor's jacket, which was a bit dull as it was, he asked me to embroider it with nautical images. No problem!
The front is embroidered with several different sailor's knots, while the back has an anchor and a sail / mast, of which the latter seems to emerge from beneath the tiny piece of fake belting. (You have NO idea how his friends at school envy him for this one! *lol*
Seat covers for my dad's soccer 'arena'
The 'arena' is covered in depth on this page; here are, just for the sake of the embroideries, the seat covers again: