Navigation for this costume:
Introduction – Materials – Smock – Farthingale – Petticoat – Bodice – Skirtings – Rolled Sleeves – Overskirt – Forepart – Ruffs – Partlet and Sleeves – Jewelry making: Headdress; Necklace; Pelican Jewel; Sleeveband; Girdle; Wristbands; Fan – Finished gown – Funny Comments – Miss Starkie – Quiz
Here are some pictures of the gown in various stages of completion:
– with still incomplete sleeves, the morning sun shining through the window, draped with some pearls just to see if it looks right (see the shimmer of the velvet? Wonderful, isn't it?):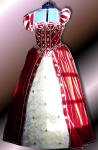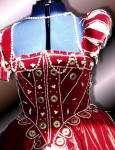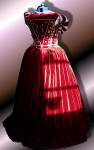 – a little more decoration on the bodice, the girdle added – sleeves still incomplete, and hem of underskirt and forepart not finished. These pictures were taken outside, in the sun; so the velvet seems a little brighter than it actually is: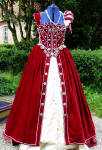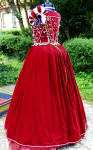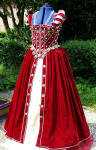 Completely finished; jewelry and ruffs are missing in this picture: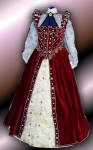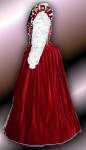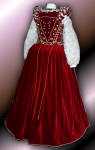 Some more jewelry, neck ruff attached…: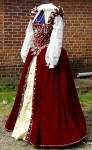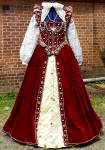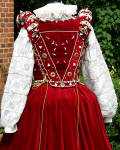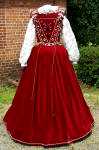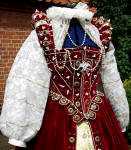 (Don't be scared – scroll down a little more to see the complete gown being worn…)
And just to summarize of how many pieces this outfit consists, here all the 18 items are listed in the order of being put on…:
| | | |
| --- | --- | --- |
| Smock | Stays (so far pictured nowhere) | Partlet/sleeves |
| Farthingale | Bumroll (so far pictured nowhere) | Petticoat |
| Forepart | Overskirt | Bodice |
| Ruffs | Girdle | Necklace |
| Headdress | Pearl strings (not pictured here, but you know what I mean) | Pelican jewel |
| Armlet | Wristbands | Fan |
This whole outfit weights …
*22* Kilograms (44 pounds) – without shoes!
And I need about one hour to put all those pieces on. Putting on some makeup is not included in that time, though half an hour for getting adjusted to the stays is.
If you can read this then you have either indeed read my very long and rather dry explanations about the making of this gown – thank you very much.
Perhaps you have also just clicked on this (almost) last chapter – nevertheless, thank you for being interested in the finished result and therefore at the moment waiting in patience for the pictures to load…
Absolutely no gown in the world will look good if it's just on an armless dressmaking mannequin, so the finished gown needed a proper environment for photographing.
My father was so kind to take some pictures of me when I visited my parents.
There is a very old castle close to the place where they live – it was built around 1500, but has been modernized several times so basically only the towers and one wall in the yard are still from that period. Well, what did it matter – I made him take some pictures of me.
My father is not the world best photographer; but the pictures turned out quite beautiful, I guess; even if some of them are not entirely sharp…
In one picture you will see me kneeling on the lawn. I know it looks a bit weird, but hey – have *you* ever tried sitting down with 22 kilograms of dress properly…? What you can see there is that the hoops of the farthingale are practically pleating the over- and underskirt down. Sitting on a chair or bank- as also to be seen in one of the pictures – is very well possible; but sitting on the ground is not.
Afterwards, when we came home, I decided that we should try and reproduce the pose from the actual portrait.
Unfortunately the room where the beautiful board in the background stands is rather dark, and I don't particularly like flashlight when it comes to pictures like these, but… well, see for yourself.
The left picture was taken with the flash, the right one without. I also noticed when resizing these pictures that one of the pearl strings on the bodice doesn't hang quite correct, but well… one can't have everything, right?
And there's one thing I have to mention: It's practically impossible to hold the left hand (that's in which Elizabeth is wearing some kind of golden banding with a jewel; I am holding a Swarovski Crystal Rose in that hand) the way Elizabeth does in the portrait. I almost broke my wrist when I tried it.
This is another perfect proof that this portrait was definitely not painted with a model in front of the painter…
There are some other pictures still to come which were taken in an original Elizabethan church nearby my home, but until then ….
If you're interested – some addendums to this dress diary. First, some funny comments I got from other people while I made this gown.
Navigation for this costume:
Introduction – Materials – Smock – Farthingale – Petticoat – Bodice – Skirtings – Rolled Sleeves – Overskirt – Forepart – Ruffs – Partlet and Sleeves – Jewelry making: Headdress; Necklace; Pelican Jewel; Sleeveband; Girdle; Wristbands; Fan – Finished gown – Funny Comments – Miss Starkie – Quiz