Navigation for this costume:
Introduction – Materials – Smock – Farthingale – Petticoat – Bodice – Skirtings – Rolled Sleeves – Overskirt – Forepart – Ruffs – Partlet and Sleeves – Jewelry making: Headdress; Necklace; Pelican Jewel; Sleeveband; Girdle; Wristbands; Fan – Finished gown – Funny Comments – Miss Starkie – Quiz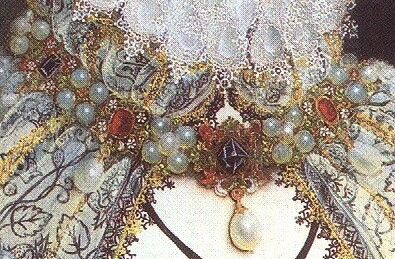 To construct the necklace I used a curved strip (alright – in fact it's a perfect circle) of black / golden /copper brocade fabric and decorated it with techniques likely to the ones I have already described in other parts of this diary: I made Cinques (which are made like Quadruples, just with one more pearl), gemstones, made jewelry pieces from Fimo and leaf gilded them etc..
The necklace closes on the backside with a hook-eye-combination.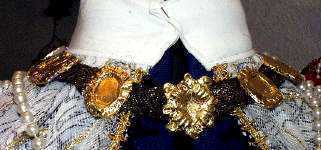 Necklace in the 'making' stage, the leaf-gilded Fimo parts already attached, but the Cinques and jewels are still missing
Now let's make the name-giving pelican jewel.
Navigation for this costume:
Introduction – Materials – Smock – Farthingale – Petticoat – Bodice – Skirtings – Rolled Sleeves – Overskirt – Forepart – Ruffs – Partlet and Sleeves – Jewelry making: Headdress; Necklace; Pelican Jewel; Sleeveband; Girdle; Wristbands; Fan – Finished gown – Funny Comments – Miss Starkie – Quiz