Navigation for this costume:
Introduction – Materials – Smock – Farthingale – Petticoat – Bodice – Skirtings – Rolled Sleeves – Overskirt – Forepart – Ruffs – Partlet and Sleeves – Jewelry making: Headdress; Necklace; Pelican Jewel; Sleeveband; Girdle; Wristbands; Fan – Finished gown – Funny Comments – Miss Starkie – Quiz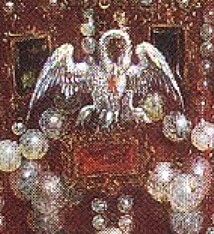 The "Pelican" Portrait has its name from the jewel Elizabeth wears in the portrait – the Pelican. It's, unlike all other jewelry in that portrait, obviously silver, sitting on a large, square ruby which is bordered by a square filigree golden backing.
There were *very* few elements of the "Russian Christmas decoration" which were cross-shaped with a ruby center (I've only had about ten of them, so they wouldn't have been enough for the whole gown (instead of the golden disks) – believe me, I would have gladly used them if I just had enough of them!). Nevertheless, I decided to use one of them for that particular jewel.
To make the Pelican, I used Fimo (similar to clay) and a printed, "this has to be the scale of it!"-version of that part of the Pelican portrait; here's the result (with feet and nose painted gold – I just wanted to be able to see what I was doing there, which is not easy on pure white clay…). The holes on the nose and head will later hold some Swarovski crystals: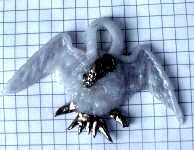 After baking, I used silver leaf to "silverize" the jewel (again – the golden paint came in handy to see where I had not silverized the pelican):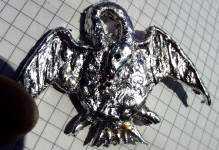 …and added a tiny Swarovski emerald as an eye for the Pelican plus several Swarovski rubies as decoration for the nose (this is very small – the complete head is just ca. 1.2cm / 1/2 inch small and each jewel is only 1mm / 1/25 inch in size; so please forgive the non-sharpness of the picture):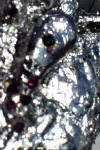 I then attached the Pelican to the golden cross. Here's the finished jewel, pinned to the gown: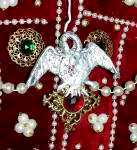 …and we go on to the sleeveband or armlet.
Navigation for this costume:
Introduction – Materials – Smock – Farthingale – Petticoat – Bodice – Skirtings – Rolled Sleeves – Overskirt – Forepart – Ruffs – Partlet and Sleeves – Jewelry making: Headdress; Necklace; Pelican Jewel; Sleeveband; Girdle; Wristbands; Fan – Finished gown – Funny Comments – Miss Starkie – Quiz