Navigation for this costume:
Introduction – Materials – Smock – Farthingale – Petticoat – Bodice – Skirtings – Rolled Sleeves – Overskirt – Forepart – Ruffs – Partlet and Sleeves – Jewelry making: Headdress; Necklace; Pelican Jewel; Sleeveband; Girdle; Wristbands; Fan – Finished gown – Funny Comments – Miss Starkie – Quiz
The smock (or chemise)


The smock of the "Pelican" portrait has a low square neck, decorated with a nice floral trim.
This is definitely a different item than the partlet because on the outer left side in the picture above, under the pearls, you can see the partlet lace go over the flower decorated border of the smock.
After searching for something like this for quite some time, I found this trim: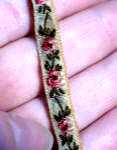 I know that the flowers here are pink and white instead of yellow (as they are in the portrait), so I used a yellow permanent marker to give them a different color (Yes, hand repainting tiny roses on trims is annoying and tiring):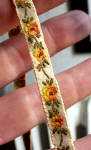 I also found a nice golden and cream cotton lace trim in my closet, which I just dyed black. The dye didn't affect the golden parts of the lace, leaving me behind with a black and golden lace trim.
I know that the original trim is golden with black and not black with gold, but hey – at *some* point of time you have to decide between "I finally want to finish that thing!" and "I'll go and search another six months for the right trim"… I decided for the first…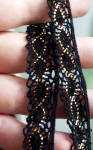 Now for the smock fabric… I thought that I still had some fine silk/linen blend fabric somewhere; however, I was unable to find it.
But I had another beautiful fabric: Handmade silk organza, with cotton cutwork designs.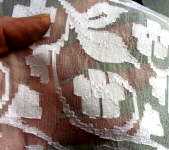 The left side of the fabric shows that it's really cutwork fabric – the cut ends of the cotton threads are showing. This kind of weave can only be achieved by cutting the designs by hand, making this fabric a truly handmade fabric.
Now – organza is usually not the fabric of choice when it comes to making a smock – it's too stiff. To take away the stiffness, I first washed the fabric on a gentle cycle, then let it hang outside in the rain and weather for some days (read my notes on this process here). Afterwards, the fabric was more like unwashed batiste – no more that stiff, but still a little crisp and very light and breathable, which is most important for the fabric of a smock, because it's closest to the skin all the time.
So after preparing the fabric in the aforementioned way, I made the smock from this fabric and used the trim and lace on neckline…
…and wrists::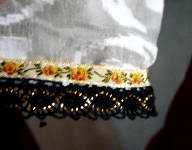 Here's the complete smock on the dress mannequin: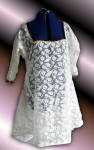 Now please follow me to the farthingale making.
 Navigation for this costume:
Introduction – Materials – Smock – Farthingale – Petticoat – Bodice – Skirtings – Rolled Sleeves – Overskirt – Forepart – Ruffs – Partlet and Sleeves – Jewelry making: Headdress; Necklace; Pelican Jewel; Sleeveband; Girdle; Wristbands; Fan – Finished gown – Funny Comments – Miss Starkie – Quiz