Note:
If I had to do this jacket again, I would do it with this fabric from Spoonflower (which, at the time when I made this jacket, wasn't even in existence!). It is more accurate (pattern-wise), even if it is printed, not embroidered; and strongly resembles the embroideries on Margaret Layton's jacket (which is the one in the V&A).
The very same design is also available on other products than fabric on Zazzle as well as CafePress (like phone cases, messenger bags, rugs and shower curtains)!
I, just like probably many other people, fell in love with the various embroidered jackets that were worn in Elizabethan times – the Met Museum has one; the V&A Museum has one, two are described in "Patterns of Fashion", many are pictured in paintings…
However, I was always afraid of the actual embroidery work – even if I had *partially* embroidered them with my embroidery machine, which, however, would not have been able to embroider everything (for example, it can't do a chain stitch or sew spangles on…), it would have taken – well, like forever.
Maybe you can imagine how happy I was when I found this fabric: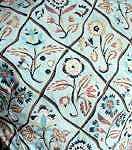 I admit that it doesn't look *completely* like the embroidered jackets. However, I think the pattern of this (woven, not embroidered) fabric at least loosely resembles the basic embroidery pattern of the jackets. Plus, I like the colors.
And… again… this is my jacket, so I can make it however and do with it whatever I want – and happily so 🙂
This jacket also taught me something else: Never, ever try to wear Elizabethan clothing without the proper undergarments.
When I had half finished the jacket, of which I got the pattern from Janet Arnold's "Patterns of Fashion – Cut and construction…" I just wanted to try it on. I did that over my everyday clothing, and the jacket didn't fit. As in: Not at all. See for yourself:
For that moment I was a little unnerved and just laid the jacket aside – for several weeks.
One day, when I was wearing my Elizabethan stays, I just thought I'd give the jacket another try. I put it on and, surprise…: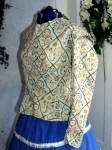 Front side of the jacket, pinned to my dressmaking model *with* stays below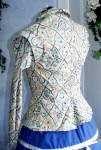 Back side of the jacket, pinned to my dressmaking model *with* stays below
…it fits like a dream! And I thought that I had enlarged the pattern in a wrong way! But, no, I didn't – it was just about the missing undergarments!
There are almost no pictures of the making. In fact, I only have the above shown two pictures of the unfinished jacket.
Well, here's the *finished* jacket, with a thick, yet soft linen lining and satin bindings on the edges:
I felt that I would need a proper petticoat for this beautiful jacket.
For quite some time I could not decide for one color; but in the end I made the petticoat of some peach-golden Dupioni silk – *very* fine Dupioni silk, which much more looks like taffeta than Dupioni. I know that Dupioni is so not period; but because I had the fabric at hand, I thought I could use it.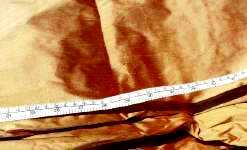 The silk was originally planned for a different gown – for the skirt of this gown from the movie "First knight" which someone wanted to order from me:
but that person never got back to me, so I basically just had this beautiful fabric in my closet for over two years without finding any use for it.
Here's a picture of the finished jacket with the petticoat:
For the future I am planning to make a second petticoat, this time with a French farthingale; perhaps in satin. Plus, I'd like to enhance the already finished petticoat – perhaps a slashed border or something like that.
And perhaps one day I will be so insane to decorate the jacket with silver and golden spangles.