In case you came here looking for the fabric that you can see on the skirt in the portrait:
I have made a reproduction of that fabric available here on Spoonflower.
And in case you're generally interested in Tudor / Elizabethan reproduction fabrics, browse my Medieval / Renaissance / Tudor / Elizabethan design collection on Spoonflower.
Then again you could also browse all the fabric collections I'm offering on Spoonflower 😉
Here's, once again, the original portrait so that you can always compare it to the detail pictures I will show on this page: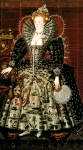 A few notes on the historical accuracy of this portrait:
In 'Queen Elizabeth' wardrobe unlock'd', Janet Arnold cites A. F. Kendrick:
"It must be confessed that the pattern on the Queen's dress is at times so fanciful that one hesitates to regard it as a faithful representation of what the painter saw with his own eyes."
Janet Arnold objects to this, saying that some of the descriptions of fantastic and elaborate pieces of embroidery in the Stove Inventory make it clear that this is not the case and that the painter carefully observed a richly decorated gown.
She furthermore elaborates that the main problem lies within the interpretation whether the petticoat or forepart is embroidered or stained (painted) – a subject which I will discuss later on this page. Methods of staining were well known to the Elizabethans, as other historical sources prove.
Unfortunately, the petticoat / stomacher / dress seems to be either missing from the inventories or has been poorly described, there are, however, a velvet French gown 'stained like clouds' and a 'cloak lined with straw colored 'stained' velvet' described (but their designs are not).
But no matter if the designs are stained or embroidered, it seems as if the Countess of Shrewsbury, Bess of Hardwick, being a notable Elizabethan needlewoman, made it as a New Year's gift to Elizabeth.
It seems as if she embellished the fabric – be it by staining or embroidering it – and then the petticoat was made up by William Jones, one of the Queen's tailors – a payment of £50 from the Countess to him was made in 1601.
The painting seems to have been commissioned by the Countess to commemorate 'her' fabric; it's been at Hardwick House since it was painted.
So – now that we clarified the historical background, let's analyze the dress a bit 🙂
Good. What do we have here… well, several items of late Elizabethan clothing, of course 🙂