Diesen Beitrag gibt es auch auf Deutsch.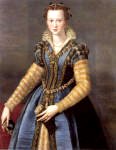 Maria Di Cosimo Medici by Allessandro Allori, painted c. 1555 – 1557
Hmmm… I had a large amount of black stage velvet – *very* heavy, but lush – used to make theatre curtains – a small amount of slate blue silk satin, an endless amount of black / tan trim (unfortunately, not golden – but tan will do, I guess) and ivory / golden trim – due to an excessive shopping tour I once did at Cheeptrims.com…
It wouldn't be the superduperoriginal historical Italian gown – because of the trims and the cotton velvet – but – to hell, I started making it.
I started with the planning stage.