Diesen Beitrag gibt es auch auf Deutsch.
While the sleeves and forepart were very simple to make, I think they deserve a very own page. They prove that 'simple' does not necessarily mean 'not much work'.
I used Margo's Lady's wardrobe pattern for the forepart and narrow curved sleeves.
I cut them in white rayon jacquard (the same as I'm planning to use for the Jamillia gown, by the way), then flat lined them with cotton twill. That was the basic work, which was also very simple.
However… the original gown has those trims all over the sleeves and forepart, so I had to make that as well… Thanks to my foresight, I had once bought a giant spool of ivory-golden trim at Cheeptrims some time ago, which I excessively used on forepart and sleeves then. I think I've sewn on over 25 yards of it.
That makes 50 yards of sewing, considering that I had to sew each trim twice: on both sides, to be exact. Time consuming… boring.
After sewing the trims to the forepart and sleeves, the fabric looked like this (picture shows forepart only):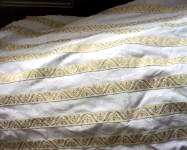 …however, as you might see and as I have already written – the base jacquard is white, while the trim is ivory-golden. On the original gown, the base fabrics are also yellowish-ivory. So… off to dye the base material ivory – I already knew that the trim would neither take any of the color nor shrink, as it's made of Polyester *cough* – there *had* to be one thing polyester trims are good for, right…? Please read in my "Tips for fabric dyeing" how to achieve an actual ivory color when machine dying fabrics.
This is how the same fabric looked after the dye:
Much better now, right?
Here are the finished sleeves and forepart:
Until I find the time to make the doublet and show it on the upcoming next page for this gown's diary, why not browse my other costumes in the meantime until I update this page?