Costumes which I find interesting (as in "interesting enough to perhaps one day make one or more of them, but have not made any planning for yet"):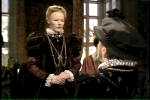 Various gowns from "Elizabeth R"
Click on the picture and you'll be taken to the screenshot gallery of that costume on the "Elizabeth R" page.
I could be tempted to list all gowns from that movie here…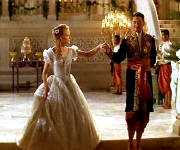 Ball gown from "Anna and the King"
Already have a suitable fabric at hand,


Silver/white woven silk, embroidered with tiny bullion flowers
but no idea where I could wear such a beauty. Well, but that didn't keep me from planning and making other costumes before, right? 😉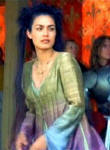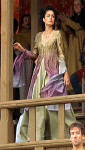 "Rainbow" gown from "Knight's tale"
I think this could also be a nice summer dress…


Queen Elizabeth II.'s Coronation gown
Hartnell's design for Her Majesty's coronation gown was and still is just breathtaking. I so adore all those flower embroideries, and the decent coloring of the gown. Just… and again… the problem: Where to wear such a gown?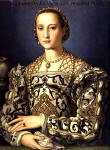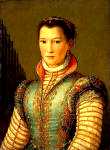 Two gowns of Eleonora di Toledo
Say – did Eleonora *ever* wear anything ugly…? I could be tempted to list all her gowns here, lol…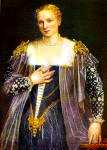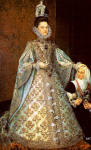 Gowns from Italian and Spanish portraits
There's another spanish portrait with an incredible gown, which I like a lot but currently can't find any picture of.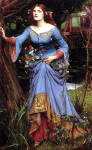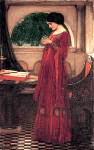 Gowns from Pre-Raphaelite paintings
Though not really historical, those two gowns fascinate me a lot. By now, I've started to make Waterhouse's blue 'Ophelia' gown; the dress diary can be found here.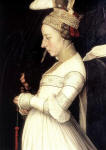 Anna Meyer from the Holbein-Madonna painting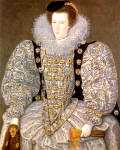 Unknown English Lady with fabulous blackwork sleeves and bodice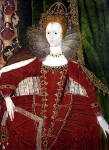 Queen Elizabeth I.
I *love* the parliament robes with the french farthingale!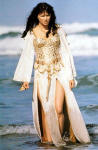 Wedding gown from "Xena"
…just who would wed me when I wear that?
No, that would just be a "fun" costume – my wedding gown, which is highly unlikely ever to be made as I will probably never marry, would be an Elizabethan gown which I have designed already quite some time ago.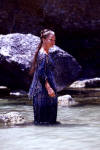 Blue gown from "Troy"
So beautiful, plus, the design's practically stolen from one of my favorite designers – Mariano Fortuny. Would also make a nice, every day summer dress.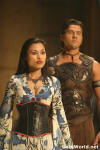 Kimono/Corset gown from "Stargate"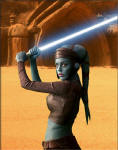 Aayla Secura costume from "Star Wars"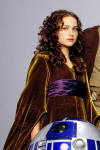 Padmé's green robe from "Star Wars"
…just because I:
a) already have the absolutely correct, diamond patterned silk jacquard for the sleeve lining:
b) find the coloring of the silk velvet interesting (purple backing, moss green pile) and
c) have the correct fabric for the underdress (quilted, shiny green material).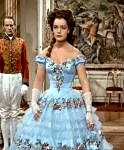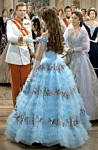 Engagement gown from "Sissi"
I'm probably too old to wear this – but be honest – didn't every girl want to be "Sissi" at some point of time in her life…? I won't get any younger, either; so the chance that I will ever want to make and wear this gown is highly unlikely. Yet and still, I love it a lot.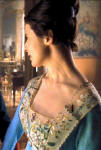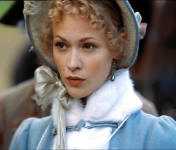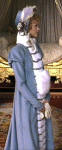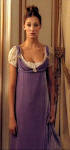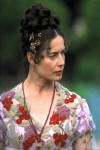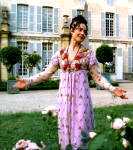 Various gowns from "Napoleon"
Even if I strongly dislike empire gowns otherwise, those costumes caught my eye. The last one – pink and red – would have to be blue and aqua, though. Oh, and I like the coronation gown a lot – the original one, of course, not the one from the movie (though that one is a fairly good copy).
And I think if I would make the blue coat not floor length, it would be a nice addition to my everyday wardrobe.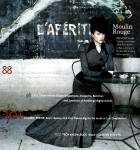 Grey wool/black velvet gown from "Moulin Rouge"
I think this could very well be worn as a business- and everyday gown, given that I make two skirts: One in the length and mermaid shape of the original skirt, and another one, perhaps calf length, for everyday wear.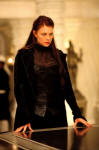 Corset outfit from "League of Extraordinary Gentlemen" (LXG)
So cool! Don't cross my path when I wear that in the streets, lol…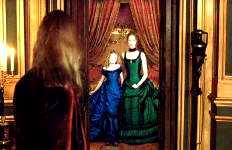 Claudia's blue bustle gown from "Interview with a vampire"
Just beautiful! I love the sheer mass of ruchings at the bustle.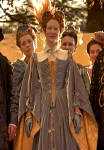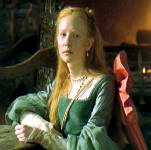 Two gowns from "Elizabeth"
I love the taupe velvet gown and the "dance" gown, because it has such nice embroideries on smock sleeves and neckline. Also like the combination of velvet and satin a lot.
There's a movie costume exhibit which will come to Germany in 2007, and the 'dance' gown is one of the exhibited costumes. Hmmm… I think I could make the gown until then and wear it when visiting the exhibit…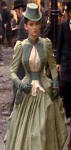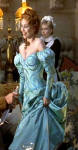 Mina's "Town dress" and Lucy's "Ball gown" from Bram Stoker's "Dracula"
*So* in love with Lucy's ball gown, but I have no idea how I could ever embroider all those beautiful snakes to the fabric.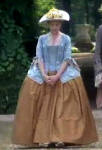 Dress from "Dangerous Liaisons"
The jacket is patterned with flowered branches in a way that I was first reminded of a typical Chinese brocade, which I like a lot.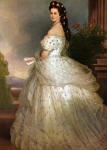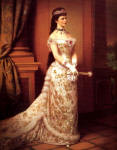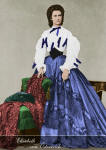 Some gowns of Empress Elisabeth of Austria
…especially the second one – *with* all that ruby jewelry – is sooo beautiful! Question is just… would I have the patience for all that Goldwork…?
…Plus some gowns from various books; but I can't picture them here as these books are under strict copyright.
However, if you have those books and would like to look them up..:
Patterns of Fashion 1 (1660-1860):
p. 30; c. 1745-60, Snowshill manor: Quilted white satin jacket with hood and matching petticoat;
Norah Waugh, Cut of women's clothes 1600-1900:
Something likely to Diagram XIX
Polonaise from diagram XXI
Robe à l'Anglaise from Diagram XXII
Pierrot Jacket from Diagram XXVI
Open gown from Diagram XXXIV
Fashion – The collection of the Kyoto Costume Institute:
p. 40 – Robe à la francaise – so not my colors, but sooo sweet… I could imagine making it in pink/blue checkered silk taffeta instead of pink / green…
p. 48/49: ivory/blue robe
p. 86, the blue dress could serve as a base for the above mentioned 'Quilted white satin jacket with hood' from 'Patterns of Fashion 1'
p. 238/239: Evening gown c. 1866 – same dilemma as with Sissi's 'engagement' gown above: I think I'm too old for something like this…
p. 300/301: Evening gown, designed by C. F. Worth. Just beautiful. Look at all those pearls! I would change the color from pink on white to white and gold on pale blue, though, to make it more obvious that this is a sun with clouds depicted.
p. 393 – Evening gown by Lucile, 1916
I know who Lucile was – Lucile Duff-Gordon, one of the survivors from the Titanic – her husband, Cosimo Duff-Gordon paid the rowing sailor in their lifeboat money so that he wouldn't row back to save some of the drowning, freezing victims; even if their lifeboat just had twelve people aboard instead of seventy.
This is why I in some way dislike Lucile – but that doesn't mean that I dislike her work. This gown is just sweet; though I'd probably make it floor length. The way it looks in the picture I am strongly reminded of a 1950s evening gown…
p. 416/417: "Henriette" Evening gown by Madeleine Vionnet
I just love Vionnet's work – but that dress is most unusual.
p 480/481: Evening gown by Madame Grès
p. 488/489: Evening coat by Elsa Schiaparelli
I love the simple look of the coat and the appealing and complicated work on its collar!
p. 612: Costume, designed by John Galliano and Christian Dior, 1997
This reminds me so much of the 'Grey wool/black velvet Moulin Rouge' gown that I have listed above.