Navigation for this part of the page:
[catlist categorypage=yes]
As the Cranach gown is shown in so many variations in all his pictures, I've decided not to make an exact copy of one of those gowns but take bits and pieces that I like best from all the portraits – and combine them in a single gown.
I have also finally decided that I will make the gown in its original colors – garnet red velvet and golden inserts.


This is the picture I will base my version on – mostly.
This is a pieced version of Cranach's 'Magdalena'; I've pieced her together from various smaller images plus some magnified details I've found on the net.
So… I want (written in no particular order):
The necklace from this: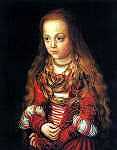 The silver embroidery on gold ground for the front insert plus the neck banding from this: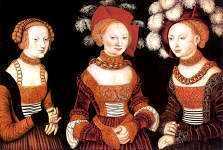 Detail: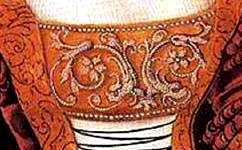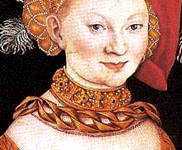 From the first mentioned Magdalena painting I will also use the sleeves, detail:



…but with the golden lacings from the painting of St. Catherine (which will also be used for the front middle)…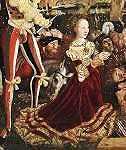 …detail: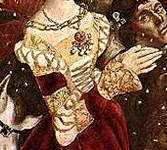 The basic skirt layout from this:



with the three golden stripes inserts.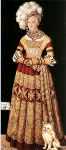 From this portrait I'll also take the shift / chemise / smock / whatever you want to call it. Detail: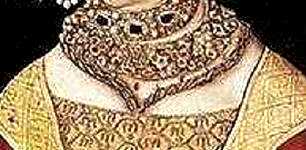 The rather plain look of the golden front sides will be decorated with pearls, just as it was done on this: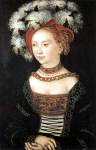 gown – just on the golden, patterned ground.
Oh, and I also want at the hair netting this: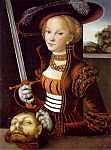 Detail: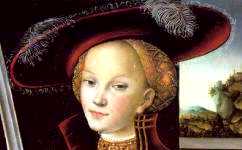 I also like the style of that bodice with its high collar very much. Hm, if I have enough of the velvet left, then I can perhaps construct another bodice – this one 🙂
And I want the hat from this: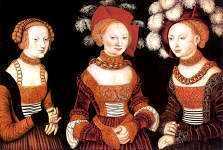 painting in the middle.
However, before actually making a Cranach gown, proper study is in order. So let's continue with a studying page before actually starting on the gown!
Navigation for this part of the page:
[catlist categorypage=yes]