~Please also have a look at my other Star Wars costume reproductions! ~
Star Wars, Episode 2: Padmés Dinner dress (aka Fireside dress)





Pictures of the original costume – the last picture also shows the feather cape.
Note:
In case you'd like to reproduce Padmé's Dinner dress (or Fireside gown, as it's also called) and still look for a good skirt fabric, you could use a printed version of the original design, which is available here.
This is what a reproduction of the skirt made using the printed fabric looks like – it was made by this Lady who I accidentally met at Star Wars Celebration Europe II.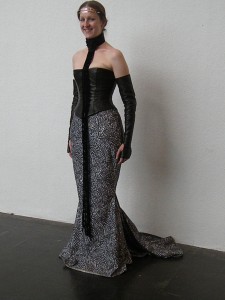 Granted, it's not chenille lace (like the original) but just printed; but pattern wise this is probably THE closest match to the original design that you'll ever find.
In case I'll ever reproduce this gown for myself, that's definitely the fabric I will use.
(Also note that this is NOT the fabric I used to make the gown described on this page; for which my customer provided her own fabric!)
I have made this one before in 2003, when I still made costumes for many others. Back then, my version looked like this:
In 2006, someone else – Mohmoh, who by now has it on her Cosplay profile right here – wanted it, too – but partially made with her materials; apparently she didn't feel confident in making it herself even if she had those materials at hand.
It's also a complete mystery to me why she doesn't indicate that she hasn't made the costume herself but instead describes it on her Cosplay page as 'being made' in third person. Oh well. Then again, MOST of her costumes are described that way on her cosplay profile and only few of them have a 'this costume was made (in cooperation with / by) this or that friend of mine' disclaimer in the description.
Maybe someone should ask her what precisely 'in cooperation' means. I suspect it means that she tells someone else what to do, and that person, well, does it.
Maybe it also means that 'someone else makes it for her and she aggressively advertises her Cosplay page on pretty much every forum available to get as many compliments for her costumes as possible'. That's at least the impression I get if I see the countless postings of her in various forums where she leaves the impression that *she* made the costumes – and yes, she did it for this particular costume too – for example, in this thread on the RPF.
On her cosplay profile, she was asked in the comments which pattern she used for the skirt. Her reply?


"Self draftet" (sic)? Self drafted my ass!
Or rather, I drafted that pattern, and cut the fabric, and sewed it. She did NOT "self draft" the pattern. I did.
Actually I took the chance to ask Mohmoh about this at Star Wars Celebration Europe II in Essen.
The statement I got by her is that she claims to have ripped the seams of the skirt open and afterwards sewed it back together, which, in her opinion, allows her to rightfully claim that she completely made the costume.
I'll repeat that insolence in bold letters; she claims that…:
If you buy a finished costume, rip the seams (or claim to have done that…), sew the costume back together (or claim to have done that), then you can rightfully claim that you made the entire costume.
In case anyone is missing the insolence and audacity of that statement, try reading it again. It's like saying that if you would buy Chanel's clothing collection and would rip the seams / sew it back together, then you would be able to claim that you made Chanel's clothing collection.
Upon hearing that statement, I was so furious that I was rendered speechless, and my son claimed that my eyes were glowing orange, lol…
Anyway, creating this dress wasn't a problem for me… after all, I made it before (and even completely, with the corset – see above!), so here's what I created after Mohmoh ordered it from me…
The corset wasn't made by me, Mohmoh bought it elsewhere – that in advance.
I made the skirt using a polyester replica of the burnout silk velvet that was originally used on the Star Wars 'Senate' gown.
I have also used this fabric on my "Water" gown and on the Purple Senate gown (which I made for someone else in 2003 and for myself in 2013).
For this skirt, it was used in black color, and it is woven from Polyester instead of the 'real deal' of burned-out silk / rayon velvet (and that is the fabric which Mohmoh provided, by the way – she bought it on Ebay). The skirt is completely lined with silver grey Dupioni silk from my collection.
The necklace was made by me using black velvet and combined with no less than *three* complete pre-made pearl belts, which Mohmoh also provided. I've also used a real vintage Victorian / Edwardian jet pearl ornament on the front middle of the neck from my own collection (as I did on my 2003 version pictured above).
The fingerless gloves were made by me from pleather.
And the most amazing thing I've created is probably the handbag, which I have made with the remnants of anything else (meaning burnout velvet, Dupioni silk, strands of the pearl belts and a pearl flower that was on one of the belts) plus some greenish shimmering feathers.
Such feathers were also used on the original cape that went with the original costume (and which I have partially created for this costume as well – but I didn't sew all the feathers on, my customer Mohmoh felt confident that if I made the base of the cape and add the first row of feathers, she could add all the others herself) wanted to add some herself – so – no pictures of that *yet*, but maybe Michaela will send me some when she has finished the cape and wore the complete costume for some pictures?
~Please also have a look at my other Star Wars costume reproductions! ~
  😉 )