Navigation for this part of the page:
[catlist categorypage=yes]
While I was still planning and contemplating the silk screen printing, I thought it couldn't hurt to start tracing the embroidery patterns – which is, besides making the embroidery itself, probably the most painful work on that costume.
The embroideries were carried out with a Cornely machine – a french brand which is capable of doing very special kinds of embroideries. I have written a short essay on the Cornely machines on my 'Phoenix gown examination' page, so if you would like to find out more, please click on the link.
So I took the wonderful fashion show images from Padawansguide and practically pieced the embroidery together. The repeating burnout velvet pattern was an immense help in this task.
Then I traced the embroideries in my picture editing program – piece by piece. This is also the way I'll publish them here, as I'm not yet finished tracing them all.
The embroidery is shown half the actual size in the following embroidery templates.
This is how to use the embroidery template:
– First, embroider the *black* lines.
– second, embroider the *blue* lines.
– Third, fill the grey spaces within some of the patterns with more embroidery.
Note:
Only the *embroidery* pattern is half way exact (it's, as already mentioned, traced from the Fashion show photographs, which don't always show the embroidery very clearly, especially in some places like the bottom front part of the sleeve and the sleeve cap); what looks like a sewing pattern piece is not exact (though it has to be said that from the pattern in the velvet, such pattern pieces could almost be guessed).
Oh, and by the way: Usually, I would have had to trace both sides, that means left and right side. They are *not* the same, but have slight differences. Nevertheless, as it's already painful enough to trace just *one* side, I've decided to do just that.
Here's the top front layer of the coat.

And here are top back layer and sleeve, which are cut as one piece: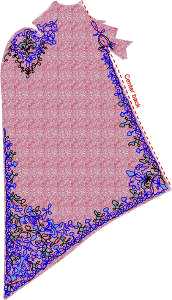 (Yes, that piece is cut on the bias at the center back.)
Navigation for this part of the page:
[catlist categorypage=yes]