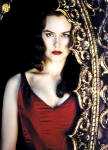 Picture shows Nicole Kidman as Satine, wearing the gown
One day my friend Katrin asked me to make her a wedding gown.
Which I did 😉
The gown I created is a fairly accurate reproduction of Satine's red gown from Moulin Rouge.
I used what I think to be the original fabric – double-sided silk duchesse, one side woven black, the other red and the bodice was constructed with a special method I developed to construct really tight fitting bodices.
However, I watered the silk before sewing to preshrink it and to prevent the fabric from staining when getting in contact with even just water.
This softened the usually quite stiff fabric a bit, so that it now rather 'drapes' rather than 'stands', which is especially very obvious on the 'bustle bow' at the back, compared to the doll costume I have made and of which the silk has not been watered; and also in comparison with my own 'Moulin blue' gown, which is not made of silk but of acetate in the same weave.
I also didn't make the train and back bow as long as on the original gown and used golden instead of red or black grommets on the back lacing.
But in any other way, especially when it comes to the bodice pattern, I think it's a rather accurate reproduction… compare yourself:
Pictures of my reproduction: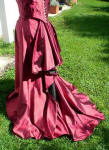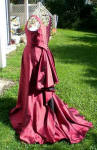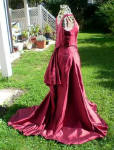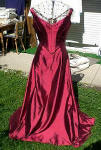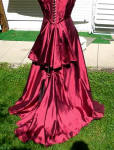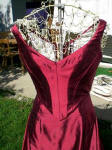 It's practically impossible to capture the true color of this magnificent silk. I guess the last two pictures above show it the way it really looks like.
And this here is Katrin wearing the gown on her wedding day:
Congrats, Katrin! 🙂