Diesen Beitrag gibt es auch auf Deutsch.
If you want to create something like this: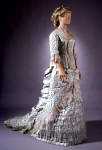 then the planning has to be excessive.
Addition made at a later point of time:
Sometimes, the planning can be excessive, yet it still doesn't work… this costume's diary is a perfect example.
I will explain that at a later point of time in this diary.
First, I only disliked one single thing about this gown: its colors. I envisioned something in my favorite colors – blue and black.
This is why the first thing I made was a color changed version of the picture, with a picture of my face over the 'head' of the doll (unsharpened here for privacy reasons) and the hair changed to the color I had back then (yes, I change my hair color quite often – currently, I am trying to get rid off black red hair to get back to my natural, almost grey ash blonde…):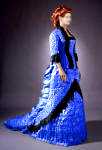 Yes. Most definitely yes. So mine.
Now – color changing alone wouldn't make the planning here. The next thing I did was to look around for various patterns which I could modify for this gown. I came up with the following, all by Truly Victorian: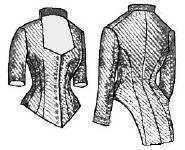 Truly Victorian 422
This pattern for the bodice was almost perfect, except of the neckline which had to be straight instead of heart-shaped and the tail on the backside, which would have to be fanned to fit over the bustle.

Truly Victorian 216
This skirt pattern, while not having the waterfall draped bustle at the backside, seemed great if I would change some things. First, I would have to turn the side panels around and second, I would have to change the back drape. Other than that, I would have to change the appearance of the front side to that ruched look and add rows of pleating to the bottom.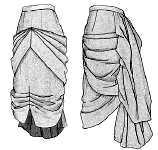 Truly Victorian 326
What I liked most about this pattern was something no other pattern had – the pleated and fanning panniers. This was the part of that particular pattern I would need for my gown.
I then made a collage of all the pattern elements with the modifications I wanted to make and compared them to the original gown. In this collage, the bodice pattern (TV422) is marked red, the skirt (TV216) is marked green, the flipped side panels of the same pattern are marked yellow and the panniers from TV 326 are marked blue:
Looks great, doesn't it?
Well, and because it looks so great, I will just look at it for some time until I start on the gown… No, frankly – I just don't want to start something else at the moment; but I will most definitely make the gown, especially because the planning worked so well and of course because I already have most of the materials at hand.
Materials I'll need (or already used) for this gown (constantly updated with further planning and making):
(This includes a price breakdown for the materials – I've made the experience that people are incredibly curious as to how much one would have to pay for the materials if they would make such a gown themselves.
Remember, however, that the below shown costs are *just* the plain material costs – so if you would have someone make you such a gown with the above listed jewelry, you'd have to pay their work as well.
Considering that I estimate this gown and appropriate corset to take roughly 150 hours of work, and considering that a *good* costume maker should earn at least $15 per hour (remember, s/he must pay taxes from that, *plus* make a living somehow!), *plus* adding some funds for research, shipping of materials and the finished gown, notions etc. – about $150 or so….
This means the price for a gown like this should have at least $2250 *added* to the below listed, plain material costs, if you would want a professional costume maker to make you this gown.)
Status
Item
Cost
~15 yards of duchesse silk satin for the gown (bought at a sale – lucky me )
~ $375
Interlining / lining for gown
~ $100
Dye for the Duchesse satin (must be dyed by a fabric dye shop, as Duchesse can't be dyed at home, so… expensive!) (And, yes, I don't like the thought of having chemical dyes on my body either – but what else could I do to get *that* color into the fabric…?)
~ $ 75
Large amount of lace trims for bodice, skirt, sleeves (~10 yards)
~ $100
Crinoline netting to reinforce bodice / stiffen gown
~ $120
Corset steel boning to reinforce bodice
~ $ 10
Material for corset making – Duchesse satin, boning, lacing, lining/interlining, patternmaking etc.
~ $100
Patterns
~ $100
…so just the material will (did) cost:
~$ 980
…if you'd have this gown made, add the above explained 'costume maker' costs of…
~$ 2250
…and get to a total price of… (gasp!)

~$ 3230

Explanation:
: already have that material
: ordered that material
: don't have the material (yet)
Costs are calculated by the material price; no shipping/handling fees for those materials are included here.
The above listed 'costume maker' calculation was made just to satisfy one of my biggest needs:
To show people that *good* costume makers are often underpaid or undervalue their work (or the amount of work that goes into a gown). Same (concerning the underestimation of time / work) is valid for customers – people who want to have such gowns made by professionals.
I've experienced that myself when I was still a professional costume maker and *still* heard often that my prices are 'too high'… just because people don't take into consideration (or are simply not aware) how much time, work, craftsmanship and research go into making such gowns.
I myself often miscalculated the costs for a customer's gown, in the sense of me thinking that I wouldn't need so much material / so much time, ending up with doing very much for considerably little.
So – the calculation is for 'those' people as well as for myself, so that I might know what exactly my spare time, in which I make these costumes, is worth (I wish I had made those very exact breakdowns when I was still professional – would have spared & gained me much at the same time)
Before starting on the gown, I have to make the corset.