I do like to paint and build things. As in, Trompe-l'œil kind of paintings, and building structures like houses (and yes, I'm still a woman! *lol*).
Some examples of my paintings and buildings:
The 'Arena auf Schalke'
My father is a huge fan of a certain German soccer club called Schalke 04. In fact, the home of my parents is very close to their stadium, which is called the 'Arena auf Schalke' (Arena at Schalke). So each time that club is having a match at this stadium, he and his friends first meet at his home (where their friends park their cars), have some drinks, and after that, they walk over to the arena.
Now, the poor little shed that they meet in has seen better days. As in, years ago. And I personally think that there's nothing better than to make a dad happy 😉
So what I did was basically tear their old shed down and build them an *arena* instead; one that closely resembles "their" Arena auf Schalke. Unfortunately it only dawned me to take pics after I was finished; it would have been very interesting to take pics of the old shed, to be able to compare.
Anyway, this is their new meeting place. It took me a bit more than a week, about 6 liters of paint, 7 yards of cobalt blue Schalke tricot fabric, 1 roll of yarn (for the embroidery on the seat covers), exactly 12 square meters of wooden OSB3-boards, a bit more wood to stabilize it, uncountably many screws and metal angles and arms / legs that hurt more than I could ever imagine to construct it:
The first four pictures show the entire 'inside' of that little shed (which isn't so little after all; it's 3×3 yards).
Fifth picture shows a closeup of the embroidered 'S04' (which is short for 'Schalke 04') logo, which I didn't just embroider but also digitize. The logo is embroidered to the seat covers, which I've sewn from cobalt blue tricot fabric (coincidentally the same fabric that the soccer players of that club wear as their shirts 😉 ).
Sixth and seventh pictures show the 'outside' of that shed, to which I painted a large, 3D logo of the club.
Eight picture shows the sign that hangs above the shed (see second picture where exactly it is!). I've basically made a modified version of the actual arena logo (which is rounded, while mine is not), took the S04 club logo (which contains a 'G' for the town of the club), and since my dad's first name is 'Gerd', I've used that 'G' in the logo to write his name to the sign. Also, I've basically replaced the 'AufSchalke', which would be on the original arena logo, with 'AufOsterburg', because that's the name of the place where my parents live 😉
Last not least, the ninth picture shows an embroidered 'standee' on the table, to which I have embroidered precisely the logo that I described (and painted!) for the eight picture.
My dad AND his friends were absolutely stunned by their new arena, and some said that now they don't even need to walk over to the real arena. Eventually, of course, I'll also have to take care of those seats / benches, because they're still from the old shed and have seen better times as well.
A fitness room in the style of an italian village
| | |
| --- | --- |
| Before: | After: |
This is a room that I painted for my parents too. It's their (formerly somewhat boring) fitness room. The mural on the wall works pretty well to visually enlarge and light up the room. It took me about 2-3 day to paint this room.
The 'Morning Glories' cake
As already mentioned on the 'Embroideries' page, my mom owns china by Herend that's decorated with Morning Glories. This is what it looks like: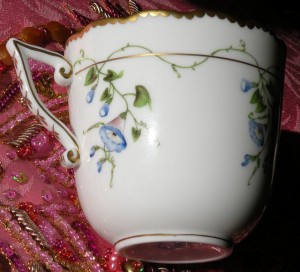 So when my mom's birthday came around, I made her a cake. Now, I really really suck at *any* kind of work in the kitchen, but my grandma – my mom's mother – once taught me how to make a very delicious cake. Plus, I'm good at sculpting and painting. So what I did was to make my grandma's cake, and decorate it with sculpted and (food-safe color) painted pieces of white sculpting chocolate, to match my mother's china (and yes, all those flowers and leaves are made from white chocolate!). Here's the cake in all its (Morning) Glory:
 
This picture shows the Morning Glories
made from my white sculpting chocolate
before I added them to the cake: