How colors print differently on the various Spoonflower fabrics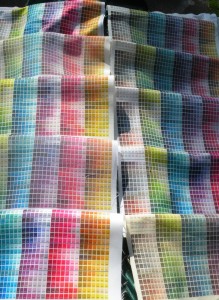 As some of you may know, some of my fabric designs are available on Spoonflower – the link to my designs there is this one.
Now, for many of my fabrics I suggest something like "the colors will look best on this or that fabric".
Many people fail to understand what I mean – color is color, right?
Wrong.
That's why I've invested a few bucks to get swatches of quite a few of the fabric types that Spoonflower offers to be able to illustrate how the colors are printed on those fabrics.
Just for the records, the design that I used for the swatches is a swatch-sized version of this Spoonflower color map.
Just so you know which fabrics I have swatched, these are:
Basic Combed Cotton
Dress-Weight Faille (may not be available to the public yet – the advantage of being a Spoonflower designer and able to test fabrics…)
Organic Cotton Sateen
Cotton Silk
Cotton Poplin
Micro Twill (may not be available to the public yet)
Cotton Voile
Linen-Cotton Canvas
Silk Crepe de Chine
Performance Knit
The numbers listed for the fabrics above (1-10) are the numbers by which I will refer to them when explaining what you see in the photos below.
As for the widths, weight, prices of those fabrics – please refer to this Spoonflower help page.
Let's start with an overview of all the fabrics.
Left: Picture taken in shade; right: Picture taken in sunlight.
Top row; left to right: 1-5;
Bottom row; left to right: 6-10.
Now, as you can probably see, there are three fabrics which stand out in terms of color brightness – those are 2, 6 and 10; directly followed by 4.
That's because 2, 4 and 6 are polyester fabrics; while all other fabrics are either cotton or cotton / silk or cotton / linen blends (or pure silk – 9, to be precise).
On the recently introduced polyester fabrics, the colors DO appear more vibrant and brighter. That's not the fault of the printer – it's just the way how the printing inks look on natural vs. polyester fibers.
But let's go into detail and have a look at the colors up close:
Again, for each picture save the last two:
Left: Picture taken in shade; right: Picture taken in sunlight.
Top row; left to right: 1-5;
Bottom row; left to right: 6-10.
Last picture shows fabrics 1-10 from top to bottom.I particularly recommend comparing the RED shades of the various fabrics in the very first picture.
It's almost as if the natural fabrics which do not print as vibrant as the polyesters have been washed out; but that is not the case.
Also notable is how much better the blacks are printed on the polyester fabrics.
Another set of pictures – this time comparing the sheerness of the fabrics:
Almost the usual setup – left, shade; right, sun; left rows top to bottom: 1-5; right rows: 6-10.
For the left picture I placed a piece of black leather beneath the fabrics at the center; for the right one, a piece of green satin.
You will notice how the fabrics 7 and 9 are the ones that are most sheer.
Now, what does this examination conclude to?
First, it is entirely up to you which fabric you chose for a project. Some may not be suitable for certain projects; i. e. it's rather difficult to make one of the "big" dresses, like my Travel dress, using a stretch fabric (which is why I chose the Organic Cotton Sateen for that one – this was before the introduction of the polyester fabrics; now I would chose Silky Faille, which became my new favorite).
Also, if you, like me, strongly dislike Polyester fabrics, you want to pick either the Organic Cotton Sateen or the Cotton Poplin since those two – from the range of natural fabrics – DO print the colors best. Again, I have changed my opinion in particular about the Silky Faille (which IS polyester!) after it had been introduced.
Another option is the Cotton Silk, but since that fabric has a sheen that is rather similar to dupioni silk, it may not be suitable for projects that require more matte fabrics – however it of course IS brilliant for projects that DO require that kind of sheen.
The linen-cotton canvas is a good option if you need a REALLY sturdy fabric (i. e. for bags).
And the Silk Crepe de Chine, well, it doesn't print the colors so very well and is a tad on the sheer side, but still, it's pure silk and very airy.
If you REALLY want bright and clear colors, I do NOT recommend the Basic Combed Cotton or Kona (the latter not pictured in my swatches but yielding a similar result to the Basic Cotton).
Yes, I know, it's the cheapest option.
I have seen MANY people complain that the colors turned out way less vibrant than they expected them to be on the cheaper cotton fabrics, presuming that Spoonflower either did a faulty printing or that Spoonflower prints, in general, aren't worth the money.
That's just wrong – as usual, "you get what you paid for" – and if you pay for the cheapest possible option, don't expect the colors to be as vibrant as on one of the more expensive fabrics.
At any rate, I DO strongly recommend ordering swatches (of possibly more than one fabric type!) if you like a certain design. That is the only way you can find out how the colors do actually print on certain fabrics.
Hope you found this little Spoonflower color guide printing comprehensive 🙂