Elizabeth R is a BBC production from 1971 – the year in which I was born.
Update, April 2007:
I had the possibility to actually examine the "Phoenix" gown reproduction from this movie at the Museum of London. My studies can be found here.
Jean Hunnisett, who wrote many books on costuming, was one of the the costume makers; the designer was Elizabeth Waller. Janet Arnold liked to show pictures of those costumes in her books (for example in "A handbook of costume" and "Patterns of Fashion 1560-1620") – they are *that* good that an Elizabethan costuming enthusiast should end up having problems with lacking oxygen during this movie, as they are indeed that breathtaking.
According to Mrs. Hunnisett, all the embroidery on Miss Jackson's clothes was done by Phyllis Thorold.
Jean Hunnisett describes many of these gowns in her book 'Period Costume for Stage & Screen – Patterns for Women's dress 1500-1800' and also gives out the patterns for some of them in that book.
The book is no more available over Amazon.com; however, as many other costuming books which are, according to Amazon.com, 'out of print', this one is still available over www.poisonpenpress.com.
Glenda Jackson is probably the very best Elizabeth I have ever seen.
And it is utterly surprising how *FEW* pictures from this movie are available out there on the web.
And if that were not enough reasons for me to screenshot the costumes of that movie, then I don't know what other reasons I could need.
As the movie is, as already mentioned, from 1971 and was furthermore 'just' a TV production, the color-, contrast- and sharpness quality of the movie and therefore also of the screenshots was not really satisfying.
I've therefore used a special software to digitally enhance and clarify all screenshots. Here are three examples – just in case that you also have a copy at home and think that it's of worse quality than mine after seeing my screenshots 😉 It's just a matter of knowing how to use digital picture editing properly (and spending two weeks of work on it) 😉

Some of the gowns that have been derived from portraits have been shown in the wrong order in the movie (meaning: not in the order in which the portraits were painted). This is why I have written a year next to the name of the gowns which I could identify in portraits.
Index for this site
(Click on a portrait and you will be taken to more screenshots of it; or scroll down the whole page to see all screenshots. Be patient – it may take up to three minutes (over ISDN) until this page has fully loaded!)
'Princess' gown c1546-47
(Looks like a mix between the following portrait gowns:)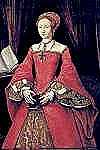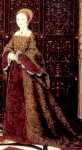 Even if at least the first one should be far too 'old' – Elizabeth is thirteen in that portrait, but much older in the movie when she wears that gown. How is it possible that she could still have the size of a thirteen years old girl, so she could still fit into that dress?
The patterned velvet, however, is just gorgeous.
The gown is worn on several occasions during the movie; and the accessories vary.
Elizabeth calls this "her finest gown".
I think it's a *vague* copy of the coronation gown (1558) (even if that one originally was already missing the Tudor sleeves).
As with Mary's gowns, I'm still wondering about the partlet being worn *over* the bodice.
Purple velvet / fur (c 1560)
The gown is likely to the one in the Clopton portrait, but definitely just 'inspired by' and by no means an exact copy.
Nevertheless, it's a most beautiful gown, and the coloring is just breathtaking.
This is probably the gown which is worn in most scenes; the hairstyles vary.
Definitely a copy of the gown in the engraving on the 'Book of faulconcrie' (1575)!



I like the beautiful combination of green velvet (or felt, perhaps?) and brown stamped and slashed leather. Again, this gown is worn on several occasions.
The scene in which Elizabeth sits down in the pouring rains and refuses to enter the tower. One can only guess what her thoughts might have been at that moment: she undoubtedly had the execution of her mother in mind.
Green velvet loose gown (dress beneath: c 1570-85)
Elizabeth is wearing a green loose gown over a green velvet gown in some of the scenes.
While I can't remember seeing that particular loose gown in any portrait, I think I know from which portrait the gown beneath has been derived (though, of course, it's just barely visible under the loose gown, which I find sad):
Compare the pendant and neckline under the loose gown with that portrait. They seem to be very similar.
Green / golden / red
(Part of this combination, which is often worn, is the aforementioned green velvet loose gown).
The color combination is, well, something that one has to get used to – but as soon as *that* has happened, I think no one could find that gown ugly any more 😉
The red/ golden fabric of which the gown beneath was made is exactly the same fabric as the one of which the backside of the 'Ditchley/Golden speech' gown is made of.
Sage green (…if supposed to be the coronation gown: 1558)
In the DVD specials, see below, this gown is described as a copy of the coronation gown. I think that this must be a mistake of the DVD makers – *if* someone like Jean Hunnisett had intended to make a copy of the coronation garb, she would most certainly have done so and would not have come up with something that more resembles a gown which is later described as a gown after the 'Italian' fashion.
The embroideries on the guards of the bodice remind me very much of the embroideries on Maria di Medici's blue gown.
"Siena Sieve" (c 1580-83)
It's a nice copy; except that this large neck ruff appears far too early in the movie. They even didn't forget to use the brooch 😉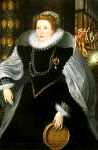 The "Italian gown" (if compared to Eleonora's burial gown: c. 1560)
I personally think that this gown is much likely to Eleonora Di Toledo's 'burial gown' Elizabeth calls it in the movie a 'gown after the Italian fashion'.
Silver-blue (done after the 'Pelican' portrait – c 1575)
In my opinion this is a simplified white/silver and blue version of the 'Pelican' gown. Note the placement of the strips on the bodice and compare them to the Pelican portrait, and you will know what I mean.
'Phoenix' portrait gown (c 1575)
This one is such a damned good copy that I could cry. I also like the idea of the hemline decoration very much. The forepart seems to be a little plain, though.
Update, April 2007:
I had the possibility to actually examine this movie costume at the Museum of London. My studies can be found here.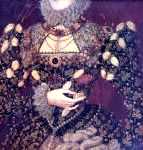 Jean Hunnisett, the costumer who made this gown, says in her book 'Period Costume for Stage & Screen – Patterns for Women's dress 1500-1800' about this dress…:
"The dress I made for Glenda Jackson (…) which is now in the collection of theatre costume at the Museum of London, has 600 embroidered motifs and half pearls."
Peach coat
(worn over several different dresses; among them the "Italian gown")
"Darnley" Portrait gown (c 1575)
A *very* good copy – I wonder if the fabric was custom woven or if it was a lucky finding of the costume designers?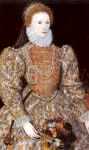 "Armada" portrait gown (c 1588-89)
Take some minutes to stare in awe at and drool over the forepart- and sleeve embroideries; they're really worth the time!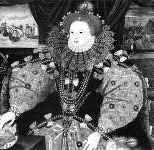 The last picture shows Elizabeth breaking down in tears after Robert Dudley's death. I found that scene just heartbreaking and *very* realistic.
"Ditchley" Portrait gown ("Golden Speech" dress) (1592)
The backside of this costume in the movie uses the same fabric as the kirtle on the green/golden/red gown.
The interesting thing is that at first I thought that the original gown couldn't have looked like that, but on close inspection, the original portrait indeed shows a red/golden overskirt and red/golden fabric on the outside of the sleeves. It's a masterful and well observed reproduction.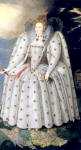 Jean Hunnisett, the costumer who made this gown, says in her book 'Period Costume for Stage & Screen – Patterns for Women's dress 1500-1800' about this dress (Note that this is just an excerpt of more than one page of description in the book)…:
"(…) The work and money involved in making such a dress today would be considerable – when I made it in 1972 for Glenda Jackson, it cost approximately 200 English Pounds.
The fabric used was a pale grey, slub rayon used on the wrong side, giving texture and sheen without looking like the fashionable curtain fabric it was. The back was red and gold colored furnishing brocade. The lattice in the background was made up of (…) tubes of silk organza stitched and turned, intersected by jewels made up of six pearls and a colored stone glued onto a gold plastic mount. (…)
The whole operation of dressing Miss Jackson, including a full wig change, took four people about 20 minutes."
Feather Fan portrait gown (1585)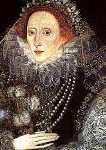 "Smoke" gown
I *think* this might be a copy of the 'Elizabeth with fan' portrait, but I'm not sure.
"Embroidered sleeves" gown
The battle speech dress
Checkered gown
Jeweled gown
I think this is a (not so true) copy of the 'Miniature' gown. If so, then it dates to c 1595-1600.
Elizabeth's last days – the morning robe (hairstyle from 'Rainbow' portrait – c 1603)
The golden robe is worn just once before in the movie, when Elizabeth is taking a foot spa.
Please notice how old Elizabeth looks – and yet and still, the makeup- and hair designers maintained an incredible similarity to the last painting that was painted of Elizabeth in 1603 – the "Rainbow" portrait; which depicts her *very* young.
A propos very young: I simply *love* how Glenda Jackson managed the transformation from young Princess Elizabeth to the old and dying Elizabeth. I *really* cried when she was standing there, not wanting to lie or sit down for four days with her finger in the mouth, though I still think that she wouldn't have talked that much during this time. My best guess is still that Elizabeth was terribly suffering from her decaying teeth, hence the finger in her mouth.
Note she's wearing THE BROOCH with all her gowns ! *lol*
The scene in which Mary goes to the block (red dress) and has her sleeves properly laced on is just heartbreaking.
Robert Dudley's wife
Robert Dudley's sister
Mary, who got the smallpox from Elizabeth and looks, uhm, a bit scaring afterwards with her scars (see last picture). Her red velvet gown is just beautiful.
Women's costumes
Men's costumes
The very last picture shows a white suit – which is, on close inspection, made of exactly the same fabric as the silver/blue gown of Elizabeth 🙂
Pictures from the DVD specials