– Note that I'm currently reproducing the dress that Beatrice D'Este tomb statue is wearing. Click here to follow the progress! 🙂 –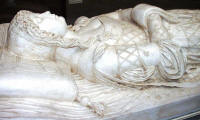 Sleeping Beauty – the real Snow White
(scroll down – more pictures ahead!)



The real Beatrice d'Este, painted by Leonardo da Vinci. This painting was her wedding gift by DaVinci. Feel reminded of something? Well, just read on.
When I was photographing my way through Victoria and Albert's cast courts, I suddenly found myself standing in front of Snow White. It was an experience so intense that I almost dropped my camera when I first saw her.
There was a Lady on a tomb who looked so lifelike that I first thought someone had simply taken a most beautiful woman in an even more beautiful gown, had dipped her with the gown in plaster and placed her on the tomb. I have no idea if the following pictures can possibly in any way show how beautiful this cast really is. If you fail to see what I have described above, I suggest visiting the V&A in London and see her for yourself in the Cast Court.
I became so obsessed with that tomb that I eventually made a sculpted version for SecondLife. Also, I'm making a reproduction of the dress she's wearing in real life.
Just to explain what you see here:
This is a plaster cast (=a replica in plaster, taken from the original, which was chiseled in marble – heaven forbid, I can't imagine how any person in this world could get anything this detailed from a block of marble! I will explain a bit more later, after I have shown you the pictures I have.
The Lady whose tomb was reproduced here is Beatrice D'Este, born 1475, died 1497 at the age of 22. She was the wife of Ludovico Sforza, the Duke of Milan, known as Il Moro
The master who created this tomb was Cristoforo Solari (active 1489-1520). The original tomb is in the church of the Certosa, Pavia, Italy – some more interior pictures of that church here. It was made 1497-99. The original location of the monument was in the church of S. Maria delle Grazie in Milan – that's by the way the same church in which Leonardo Da Vinci painted the 'last supper'. Some pictures of the original marble tomb, side by side with her husband's tomb can be seen here.
Now – on to what I find so utterly fascinating about this life-size plaster cast…
First, look at these pictures:
There are ribbons running down behind her shoulder, coming from what seems to be the shoulder strap of her gown. Now follow those ribbons with your eyes (you can see them in almost all the other pictures above) and observe how they behave. They don't seem to be made of marble, but of fabric – they're twisting, bending, *playing* along the sides of her body.
Now see this:
Can you see the hem of her skirt? Yes? The inside with the turned over hem, too? It's draping, It seems full of life. I thought that I would have been able to take the exact hem width of her gown by simply running a measurement tape along her hem (and could actually prove that theory when I worked on the reproduction dress). It's unbelievable.
Also note the seams on her shoes, where the leather sole would have been attached to the plateau wooden shoe sole…
Watch the tassels!
Not two of them drape alike; you can see this in all the pictures.
And now the most surprising thing…
…at first I thought her hands were partially covered with some kind of handkerchief, until I discovered this…
See that thing under her hand? The thing that's practically *looking* at you?
She's holding a flea fur!
This all having said, I also think that this particular tomb was the inspiration for this gown of Drew Barrymore's character Danielle in the movie "Ever after":
The crisscross cording on the sleeve just *scream* Beatrice, don't you think?
Also, if you read a bit about Beatrice d'Este, you might come up with the idea that she served as a role model for Drew Barrymore's character Danielle. Look what Wikipedia has to say about her. The Google image search also has some nice results to offer.