Vor einiger Zeit habe ich in meiner Stoffsammlung mal wieder einen Stoff entdeckt, den ich schon fast vergessen hate. Es ist eine wunderschöne blaue Wolle mit schwarzen Samtmustern. Über meine Schulter gelegt sieht der so aus…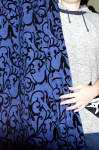 Ich wollte mir ja immer mal ein nettes viktorianisches Tageskleid machen, da ich bisher eigentlich nur Abend / Dinner / oder sonstige feine Kleider gemacht habe.
Während ich so darüber nachdachte, was ich denn wohl mit dem Stoff anstellen könnte, fand ich diese beiden Bilder:
Das erste zeigt einen Stoff, der meinem gar nicht so unähnlich ist… aber ich mag die Form des Oberteiles auf dem zweiten Bild lieber.
Dann erinnerte ich mich daran, dass in Patterns of Fashion ein Kleid abgebildet war, und zwar dieses hier: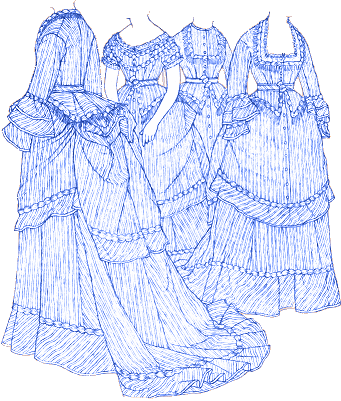 Das ist hübsch – und perfekt für das, was ich will. Es hat zwei unterschiedliche Oberteile (ein Abend- und ein Tagesoberteil), wobei das Tagesoberteil dem ähnelt, was in dem Bild zu sehen ist, das ich so hübsch fand.
Erst wollte ich das Kleid aus gestreiftem roten Baumwollsatin machen, aber für den Stoff finde ich sicher noch eine andere Verwendung 😉
Da ich aber nur etwa 4 1/2 Meter von dem blauen gemusterten Stoff habe, musste ich auch nach einem Kleid schauen, bei dem ich mindestens noch einen anderen Stoff verwenden kann, weil mein blau gemusterter Stoff nucht reichen würde.
Was ich also geplant habe, sieht so aus…: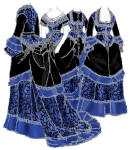 Das ist im Prinzip nur eine eingefärbte Version des Bildes aus 'Patterns of Fashion', welches ich zudem noch mit dem Muster meines Stoffes aufgefüllt habe. Nicht zu genau hinsehen, die Illustration ist nicht wirklich perfekt…
Das Bild zeigt recht genau, wie ich die Stoffe verteilen kann und wie das später aussehen wird. Es hat fast eine Stunde gedauert, diese digitale Vorschau zu basteln; aber so muss ich nicht *raten*, ob mein Plan in der Realität gut aussieht – ich *weiß* es 😉
Ich muss etwas an den Oberteilschnittmustern verändern, und das ist, die Seiten mit schwarzem Samt zu benähen. Das reduziert optisch die Taille.
Außerdem habe ich mir eine Art 'digitales Stofflayout' gebastelt, um zu sehen, wie ich die Schnitteile auf meinem blauen gemusterten Stoff platzieren kann. Wie ich schon sagte, ich habe bei weitem nicht genug Stoff für das ganze Kleid, sondern nur, um genau die Schnitteile auszuschneiden, die ich brauche:


Digital hergestelltes Layout, um die einzelnen Schnittteile aus dem Stoff zu schneiden, im Maßstab 1:10.
Ich habe dabei die Teile ausgelassen, die später mit Rüschen bedeckt sein werden. Da ich alle Teile flach mit Wollst0ff abfüttere, kann ich *diese* Wollstoffteile zur tatsächlichen Größe zuschneiden, aber der gemusterte Stoff wird nur da verwendet, wo er nachher auch von außen zu sehen ist.
Mehr Stoff habe ich nicht, das ist alles. Wie ihr euch sicher vorstellen könnt, hatte ich eine lustige Zeit, alles so hinzubiegen, dass wirklich ALLE Schnittmusterteile draufpassen.
Oben sieht man zwei größere, freie Bereiche. Ich brauche die, um vielleicht Teile nachzuschneiden, wenn ich etwas falsch mache, oder ich kann mir noch eine Tasche zum Kleid machen.
Die Schnitteile sind schwarz, da das Schnittmuster aus Janet Arnold's 'Patterns of Fashion' ist und ich mich nicht in der Mitte eines Urheberrechtsstreites wiederfinden möchte.
Zur Anfertigung der Röcke jetzt bitte hier entlang.