Diesen Beitrag gibt es auch auf Deutsch.
~Please also have a look at my other Star Wars costume reproductions! ~
 Navigation menu for this costume:
Analysis of the costume – Making the headdress – Making the gown
Queen Amidala – Red Invasion / Theed Throne Room Robe
Making the reproduction gown
As for actually making the Red Invasion gown, I started with the hoopskirt. The hoopskirt is essentially for the actual look of this gown because it basically has to be gravity-defying, with the trumpet shape the dress is supposed to be having.
So I constructed it from 24 panels of very, very sturdy cotton twill and added 7 rings of hoop steel to it. It actually works like a lampshade – the hoop steel rings stretch the fabric of the skirt, so it seems to float over the floor.
Please ignore the wrinkled look – as I said, that cotton twill is VERY sturdy – so sturdy in fact that it refuses to be ironed. Then again of course this is just the hoopskirt, and when I wear the actual dress, it will never be seen.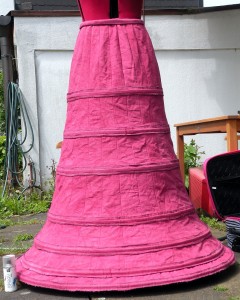 Someone asked me recently how I am going to travel with this dress (or rather pitied me for having to be limited to local events), since that person assumed that I wouldn't be able to pack the hoopskirt flat.
This is why you can see a small spray can in the lower left corner of the picture – it's there so you have something to compare the size to 😉
Of course the hoopskirt (just like the dress) can be packed flat. It's stiffened with hoop steel, after all – flexible spring steel which is designed to be put into hoop skirts. I'm actually very glad that this stuff was invented in the 1840s (and made the large crinolines of the 1850s possible), because seriously – I can't imagine being limited to non-flexible cane (which was used for hoopskirts until the invention of spring steel) or non-flexible wire.
So here's my board-sized suitcase, packed up with the hoopskirt… and the spray can so you are able to compare the size 🙂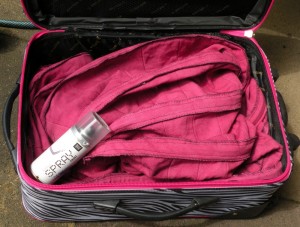 The hoop steels just spring back to their actual size and shape as soon as I remove the hoopskirt from the suitcase.
As already mentioned on the analysis page, the single pattern pieces of the dress and sleeve are separated by piping.
Here's how that is done; note that I had pre-pigmented the satin for the piping but not the bengaline for the pattern pieces. Since the satin took the dye not as well as the bengaline, this was necessary; but it's also a rather good way to illustrate how the piping is done.
Navigation menu for this costume:
Analysis of the costume – Making the headdress – Making the gown