Navigation for this part of the page:
[catlist categorypage=yes]
Decoration with single pearls and half-sphere pearl caps


The portrait gown is further decorated with single pearls, which seem to be surrounded by tiny filigree golden disks.
For this decoration I used half-sphere, golden filigree pearl caps such as are used for the ends of pearl colliers.
I've first had bought 150 of them – five packages with 30 in each package, but quickly ran out, had to buy new ones and after that, I've lost track of the number.
Needed materials: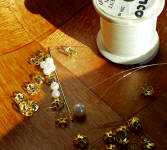 Half-round pearl caps in gold, which are usually used for the ends of pearl necklaces and can be obtained in crafts shops. You should choose a size for pearls larger than the ones you want to use. For example, I used 3mm pearls – but pearl caps for 6mm pearls.
Pearls… of course…
a beading needle
transparent strong sewing thread
a marker
Attaching the pearls works like this…:
Navigation for this part of the page:
[catlist categorypage=yes]